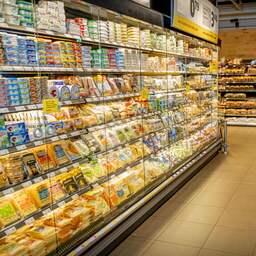 Jumbo supermarket chain saw its turnover rise to 5.36 billion euros during the first half. This represents a 5.3% increase over the same period one year ago. Jumbo's market shares jumped to 21.8%. Jumbo was also extremely satisfied with its campaign for the European Football Championship.
Internet sales increased by over 50 percent. Jumbo claims that this increase is partially due to ongoing corona measures. This means that more people shop online. The company also stated that it has invested heavily in the network.
Jumbo expects to grow after a record-breaking corona years 2020. Jumbo anticipates opening 23 branches in the second quarter of the year, bringing their total to 720.
Jumbo believes the increase in market share was also due to Jumbo's bet on European Football Championship. According to Jumbo, the supermarket chain launched a campaign that was "successful above expectations". It featured Snollebollekes as well as a coordinating 'cheer cape.
Results La Place were disappointing
Just like last year, La Place, which was the restaurant chain of V&D Jumbo took over after the department store went bust, had disappointing results. Due to lockdown measures, the restaurant chain was shut down for much of this period. The turnover in the first half was stable at 13 millions euros. This is a 60% drop in turnover compared to the same period last years, when many restaurants were closed.
Ton van Veen, CEO, stated that almost all employees who lost their jobs in the earlier year reorganization have found new positions within Jumbo. 98% of employees have been relocated already, and this percentage could increase. Few employees quit the supermarket chain as they didn't see the opportunities.
The UWV benefits agency will not report the collective redundancy of the supermarket chain. This means that no more 20 employment contracts will be terminated in less than three months.
.