Donald Trump's former advisor, Roger Stone, has received preferential treatment from the judge and has therefore been given a much lighter prison sentence. Federal prosecutor Aaron Zelinsky testified in Congress on Wednesday.
According to the guidelines, he should have been imprisoned for seven to nine years because he lied to Congress and obstructed justice. But Roger Stone, one of the key figures in the Donald Trump entourage, got away with three years in prison. Because pressure was put on the dish. That testifies Aaron Zelinksy, a federal prosecutor.
Zelinsky will read a prepared testimony on Wednesday, so he will speak explicitly about political pressure and the demand to "spare" Stone.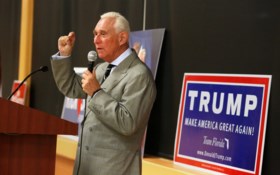 Stone was found guilty on seven counts in November last year, including for interfering with justice. The charges were related to the hacking of Democrats' email addresses in the run-up to the 2016 presidential election Donald Trump beat Hillary Clinton. Stone is alleged to have lied about his approach to WikiLeaks, which published hacked emails from Hillary Clinton, among others. Stone is one of the employees charged by special investigator Robert Mueller. Trump's campaign manager Paul Manafort already received a 7.5-year prison sentence in March last year for bank and tax fraud, among other things.
Political considerations
Zelinsky currently works in Maryland as a federal prosecutor. He will let Congress know that his bosses have told him that "political considerations" were at the root of the decision not to give Stone seven to nine years in prison, but three years. Donald Trump tweeted his dissatisfaction with it a few hours after it became known that Stone could have up to nine years in prison. The sentence was later adjusted.
ALSO READ.Who is Roger Stone, the "dirty trickster" who made Trump president
.